Kobe Smart air conditioner with smart Wi-Fi Control & 5 years' warranty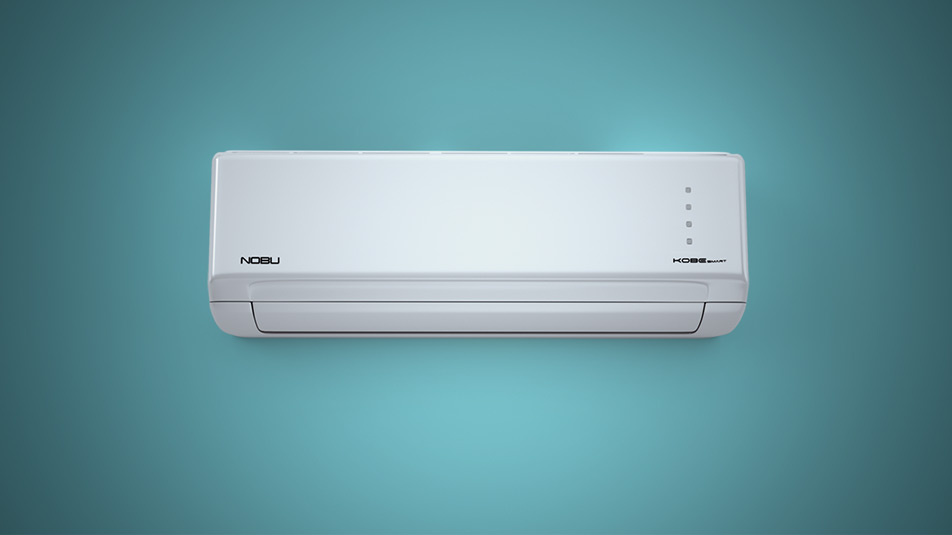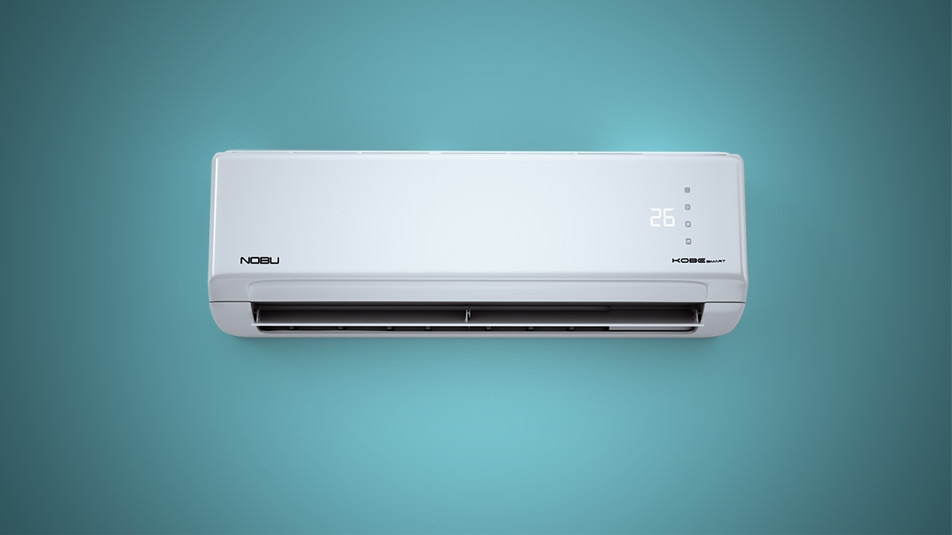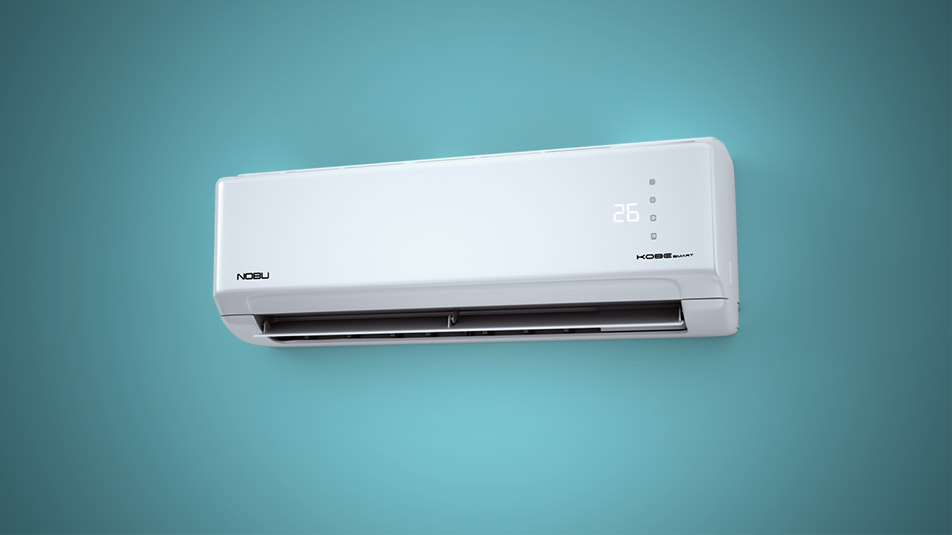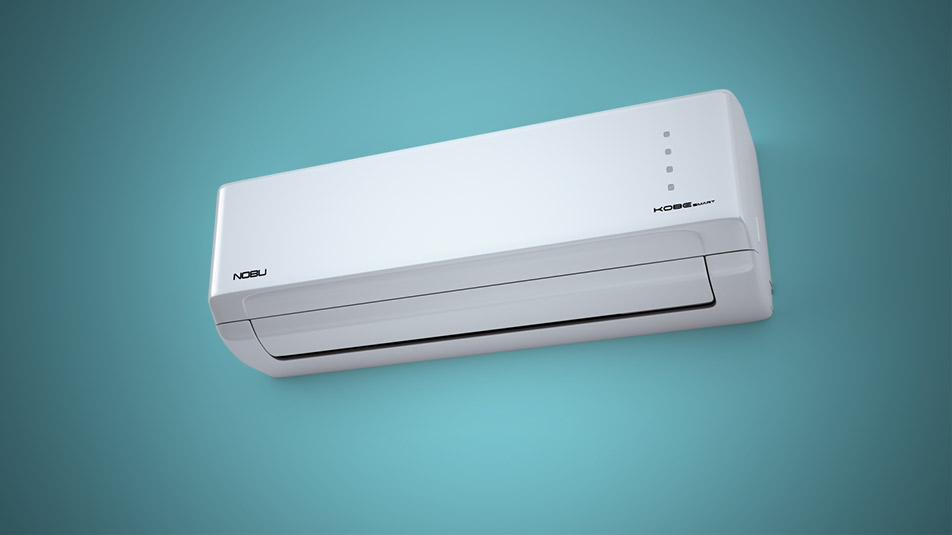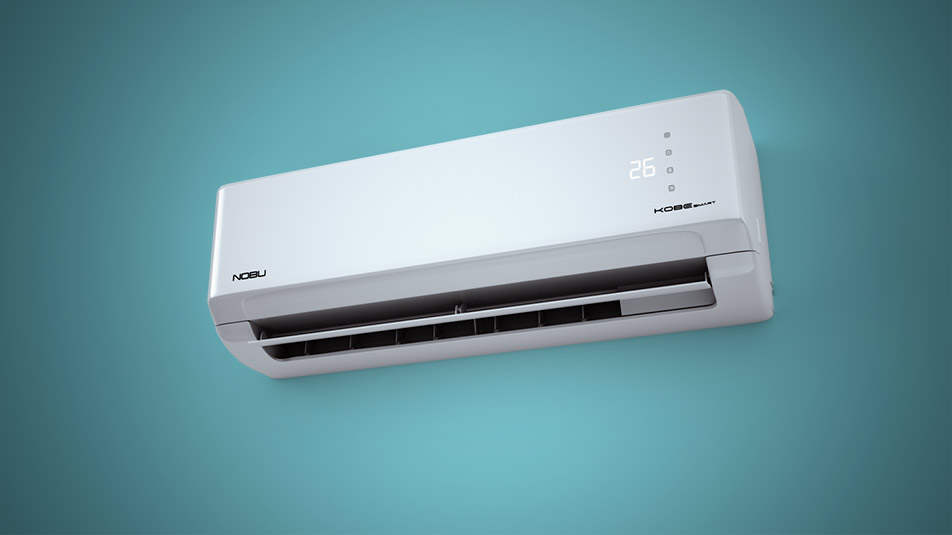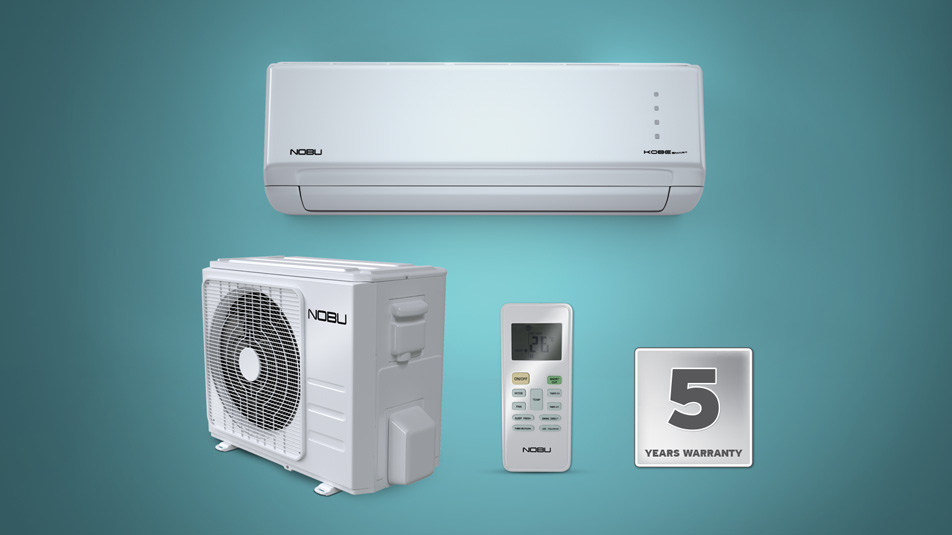 Technical Specifications
NBO - 09IDU / NBO - 09ΟDU

Cooling Capacity

9.000

Btu / h

Energy Class

A++

Noise Level Indoor Unit (Silent / Low / Med / Hi)

25 / 31 / 38

db(A)

Cooling Capacity Range

2.64 (1.03 - 3.22)

kWatt
Heating Capacity

10.000 (2.800 - 11.500)

Btu / h

Heating Capacity

2.93 (0.82 - 3.37)

kWatt

Seasonal Efficiency
(In accordance to ΕΝ14.825)
Cooling

Pdesign

26

kW

SEER

61

Energy Consumption

149

kWh / year

Heating

Middle Zone

Pdesign

24

kW

Energy Class

A+

SCOP

40

Energy Consumption

840

kWh / year

Heating

Warm Zone

Pdesign

28

kW

Energy Class

A++

SCOP

49

Energy Consumption

800

kWh / year

Voltage / Frequency / Phase

220 - 240 / 50 / 1

V / Hz / Ph

Current Input Cooling

3.8 (0.4 - 5.4)

Α

Current Input Heating

3.9 (0.5 - 5.2)

Α

Power Input Cooling

879 (100 - 1.240)

W

Power Input Heating

887 (120 - 1.200)

W

Air Flow Volume
(Hi / Med / Low) 430 / 320 / 230

m³ / h

Sound Power Level Outdoor Unit

53

db(A)

Sound Power Level Indoor Unit

52

db(A)

Sound Power Level Outdoor Unit

58

db(A)

Compressor Type

ROTARY

Liquid Line / Gas Line

1 / 4" - 3 / 8"

Power Supply Wire Outdoor

3 × 1.5 / 10

Α

Signal Wires

5 × 1.5

No x mm²

Dimensions
Indoor Unit
(WxDxH) 715 × 188 × 250

mm

Dimensions
Outdoor Unit
(WxDxH) 770 × 555 × 300

mm

Net Weight Indoor / Outdoor

6.3 / 25.2

kg

Refrigerant

R410A / 800g

Operation Temperature Range Outdoor Unit Cooling

-15~50

°C

Operation Temperature Range Outdoor Unit Heating

-15~30

°C
NBO - 12IDU / NBO - 12ΟDU

Cooling Capacity

12.000

Btu / h

Energy Class

A++

Noise Level Indoor Unit (Silent / Low / Med / Hi)

26 / 32 / 38

db(A)

Cooling Capacity Range

3.52 (1.08 - 4.1)

kWatt
Heating Capacity

13.000 (3.000 - 14.400)

Btu / h

Heating Capacity

3.81 (0.88 - 4.22)

kWatt

Seasonal Efficiency
(In accordance to ΕΝ14.825)
Cooling

Pdesign

35

kW

SEER

61

Energy Consumption

201

kWh / year

Heating

Middle Zone

Pdesign

26

kW

Energy Class

A+

SCOP

40

Energy Consumption

910

kWh / year

Heating

Warm Zone

Pdesign

29

kW

Energy Class

A++

SCOP

46

Energy Consumption

883

kWh / year

Voltage / Frequency / Phase

220 - 240 / 50 / 1

V / Hz / Ph

Current Input Cooling

5.5 (0.4 - 6.9)

Α

Current Input Heating

5.0 (0.6 - 6.6)

Α

Power Input Cooling

1.256 (100 - 1.580)

W

Power Input Heating

1.154 (130 - 1.510)

W

Air Flow Volume
(Hi / Med / Low) 520 / 420 / 340

m³ / h

Sound Power Level Outdoor Unit

55

db(A)

Sound Power Level Indoor Unit

53

db(A)

Sound Power Level Outdoor Unit

60

db(A)

Compressor Type

ROTARY

Liquid Line / Gas Line

1 / 4" - 3 / 8"

Power Supply Wire Outdoor

3 × 1.5 / 10

Α

Signal Wires

5 × 1.5

No x mm²

Dimensions
Indoor Unit
(WxDxH) 800 × 188 × 275

mm

Dimensions
Outdoor Unit
(WxDxH) 770 × 555 × 300

mm

Net Weight Indoor / Outdoor

7.2 / 25.5

kg

Refrigerant

R410A / 800g

Operation Temperature Range Outdoor Unit Cooling

-15~50

°C

Operation Temperature Range Outdoor Unit Heating

-15~30

°C
NBO - 18IDU / NBO - 18ΟDU

Cooling Capacity

18.000

Btu / h

Energy Class

A++

Noise Level Indoor Unit (Silent / Low / Med / Hi)

25 / 29 / 36

db(A)

Cooling Capacity Range

5.28 (1.82 - 6.13)

kWatt
Heating Capacity

19.000 (4.700 - 23.000)

Btu / h

Heating Capacity

5.57 (1.38 - 6.74)

kWatt

Seasonal Efficiency
(In accordance to ΕΝ14.825)
Cooling

Pdesign

53

kW

SEER

65

Energy Consumption

285

kWh / year

Heating

Middle Zone

Pdesign

43

kW

Energy Class

A+

SCOP

42

Energy Consumption

1.433

kWh / year

Heating

Warm Zone

Pdesign

46

kW

Energy Class

A+++

SCOP

51

Energy Consumption

1,263

kWh / year

Voltage / Frequency / Phase

220 - 240 / 50 / 1

V / Hz / Ph

Current Input Cooling

7.1 (0.6 - 10.3)

Α

Current Input Heating

6.7 (0.9 - 10.5)

Α

Power Input Cooling

1.633 (140 - 2.360)

W

Power Input Heating

1.542 (200 - 2.410)

W

Air Flow Volume
(Hi / Med / Low) 610 / 460 / 360

m³ / h

Sound Power Level Outdoor Unit

57

db(A)

Sound Power Level Indoor Unit

55

db(A)

Sound Power Level Outdoor Unit

63

db(A)

Compressor Type

ROTARY

Liquid Line / Gas Line

1 / 4" - 1 / 2"

Power Supply Wire Outdoor

3 × 2.5 / 16

Α

Signal Wires

5 × 1.5

No x mm²

Dimensions
Indoor Unit
(WxDxH) 940 × 205 × 275

mm

Dimensions
Outdoor Unit
(WxDxH) 800 × 554 × 333

mm

Net Weight Indoor / Outdoor

9 / 37.8

kg

Refrigerant

R410A / 1.480g

Operation Temperature Range Outdoor Unit Cooling

-15~50

°C

Operation Temperature Range Outdoor Unit Heating

-15~30

°C
NBO - 24IDU / NBO - 24ΟDU

Cooling Capacity

24.000

Btu / h

Energy Class

A++

Noise Level Indoor Unit (Silent / Low / Med / Hi)

31 / 37 / 43

db(A)

Cooling Capacity Range

7.03 (2.67 - 7.88)

kWatt
Heating Capacity

25.000 (5.500 - 30.000)

Btu / h

Heating Capacity

7.33 (1.61 - 8.79)

kWatt

Seasonal Efficiency
(In accordance to ΕΝ14.825)
Cooling

Pdesign

70

kW

SEER

63

Energy Consumption

389

kWh / year

Heating

Middle Zone

Pdesign

55

kW

Energy Class

A+

SCOP

40

Energy Consumption

1.925

kWh / year

Heating

Warm Zone

Pdesign

67

kW

Energy Class

A+++

SCOP

51

Energy Consumption

1,839

kWh / year

Voltage / Frequency / Phase

220 - 240 / 50 / 1

V / Hz / Ph

Current Input Cooling

11.7 (1.0 - 13.2)

Α

Current Input Heating

11.1 (1.1 - 13.7)

Α

Power Input Cooling

2.684 (240 - 3.030)

W

Power Input Heating

2.549 (260 - 3.140)

W

Air Flow Volume
(Hi / Med / Low) 960 / 820 / 650

m³ / h

Sound Power Level Outdoor Unit

59

db(A)

Sound Power Level Indoor Unit

61

db(A)

Sound Power Level Outdoor Unit

68

db(A)

Compressor Type

ROTARY

Liquid Line / Gas Line

3 / 8" - 5 / 8"

Power Supply Wire Outdoor

3 × 2.5 / 16

Α

Signal Wires

5 × 1.5

No x mm²

Dimensions
Indoor Unit
(WxDxH) 1.045 × 235 × 315

mm

Dimensions
Outdoor Unit
(WxDxH) 845 × 702 × 363

mm

Net Weight Indoor / Outdoor

12 / 48.4

kg

Refrigerant

R410A / 2.000g

Operation Temperature Range Outdoor Unit Cooling

-15~50

°C

Operation Temperature Range Outdoor Unit Heating

-15~30

°C
Advantages
12 Grades Indoor Fan speeds
Up to 12 grades indoor fan speeds, ensure more accurate control and brings more comfortable air flow.
5 Grades Outdoor Fan Speeds
We achieve stable operation and maximum energy savings
Turbo Mode
This function gives more impulse to the cooling and heating operation for a time period contribute to the room's direct cooling or heating
Auto Restart
If the air conditioner breaks off unexpectedly due to the power cut, it will restart with the previous setting mode automatically when the power resume.
24- hour Timer
Set the unit to start and stop automatically in a 24h period.
Absolute Silent Mode
Enable "Ultra Silence" mode and enjoy the feeling of absolute quite in your place
All DC Inverter
Οι ανεμιστήρες των εσωτερικών και εξωτερικών μονάδων και ο συμπιεστής, έχουν αναβαθμιστεί με τεχνολογία All DC Inverter. Με αυτόν τον τρόπο, ο συμπιεστής μπορεί να αλλάξει χωρητικότητα ανάλογα με τις ανάγκες του εσωτερικού περιβάλλοντος και να παρέχει τέλειες συνθήκες στον χώρο σας
More
Auto Error Diagnosis
Once abnormal operation or parts failure happens, the unit will shut off automatically to protect the system. Meanwhile it will indicate protection or error code for fast service.
Save Louver's Position
The horizontal louver will move automatically in the same position as you have set it the last time you switched the unit
Refrigerant Leak Detection
The indoor unit will display an error code "EC" and it will automatically stop when diagnose refrigerant leakage to protect the compressor from overheating
Temperature Sensor Offset
The perceived temperature by the indoor unit sensor may vary from the real temperature of the room, due to the position of the unit. Thanks to this function you can minimize the difference and achieve better conditions in your place.
Two-way Draining
Both left and right sides of the indoor unit are possible for drainage hose connection, for easier installation
1W StandBy
Power consumption from 1W in StandBy mode for higher energy savings than 5W power consumption
Smart Preheat Function
Indoor fan speed is regulated automatically from the lowest grade to the setting grade according to the evaporator temperature when the unit starts heating operation
Emergency Use
If the temperature sensor has any problem, a protection code will display on the air conditioner's screen. The air condition unit will stop operating until the problem will be fixed.
Automatic Louvers' Movement
Dispense cold/warm air at max range with automatic horizontal movement louvers
Filter Check
The stress for filter checking is a thing of the past thanks to "Filter Check" function which reminds you when it's time for filter checking. A CL indication will appears on the screen when the filter needs to be cleaned. Enjoy clean and fresh air without dust.
Media Library for Kobe Smart Air Conditioner
User, Remote Control & Installation Manuals - Energy Labels - Pdesign Test Report - High Resolution Photos DOWNLOAD
NOBU News
Make now your registration to NOBU newsletter, to learn everything about your favorite products